Math Tips
Math Game Links: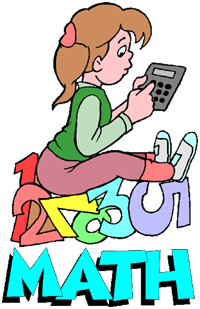 Addition/Subtraction
AplusMath - Hidden Picture Game
IXL™ - First Grade Math Activities
Learning Planet - Spacey Math
Greater Than, Less Than
ABC Ya! - Number Values Game
IXL™ - < > = Practice
Money
ABC Ya! - Counting Money Game
BBC Bitesize - Money Game
Math Facts Cafe™ - Money Game
Place Value
BBC Bitesize - Place Value Game

Number Sense & Counting
BBC Bitesize - Negative Numbers Activities & Worksheets
BBC Bitesize - Number Ordering
BBC Bitesize - Number Sequencing
ICT Games - Counting Caterpillar Game
Primary Games - Odds & Evens
Learning Planet - The Counting Game (Skip Counting)

Time
BBC Bitesize - Telling Time Game
jc-schools.net - Time Websites link
Math Fact Cafe™- Time Game
IXL™ - Telling Time Practice
Measurement
BBC Bitesize - Measurement Game

*Printable Practice Worksheets
AplusMath
BBC Skillwise
Math Facts Cafe™
More Math Tips & Activities:
Math can be fun for some and daunting for others. Whichever you are experiencing, it is always important to keep a positive attitude and incorporate games/activities that are engaging. Here are some suggestions for making math time a fun time:
- Make it a themed math day. Use a cartoon character, a special object, an experience, or food to make the lesson more concrete and fun.
-Practice math facts with PE! Skip counting while doing jumping jacks is my favorite!
-Practice math problems on the counter or outside using your fingers in whipped topping or shaving cream!
-If so many problem per page is causing a block, write them out on a bigger piece of paper, do them on a whiteboard, or write them in some other medium. As long as they do the math problems in some form, you can move on.
-If you're playing a game, have your child keep score or be the banker.
-Cooking is a great time to reinforce math concepts.
-Encourage, support, and cheer for them when they have a success or jump a difficult hurdle!
-Look for learning and review opportunities outside of the school day to reinforce topics.
-Have them "teach" someone something they are learning about. This reinforces their learning and gives them confidence. Recruit Grandparents, perhaps. They make great "students." *wink, wink*
-Check out some of the great math websites in the Educational Links section.