Year's Past Student Work

Ayden's Science Project
February 2014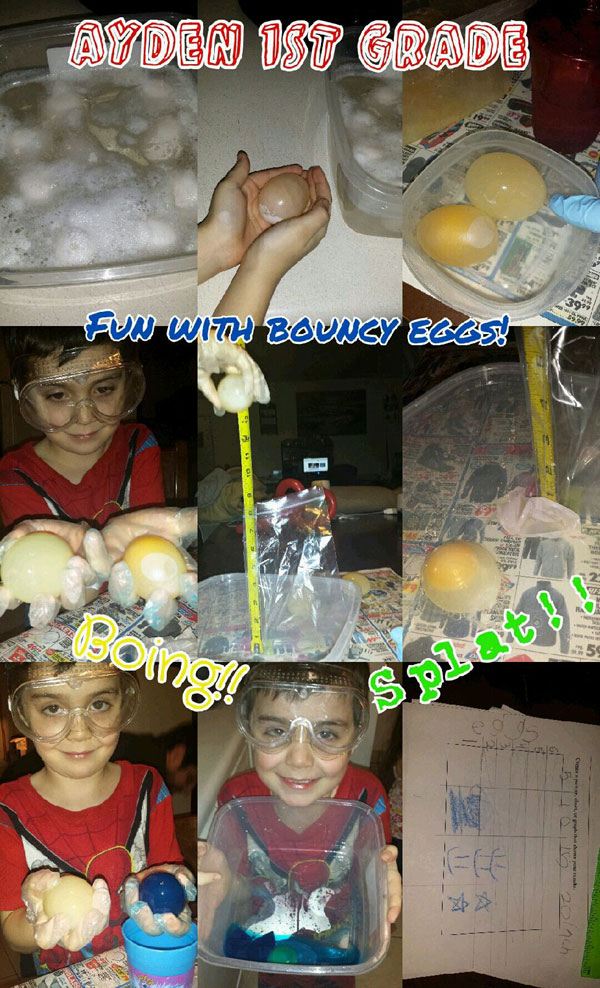 Cyan Reading To Zoe
May 2013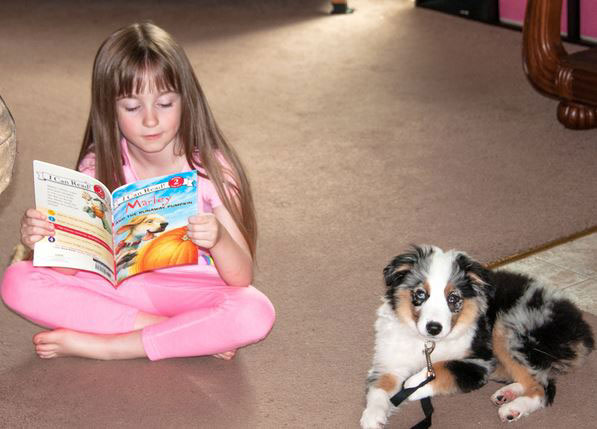 Aurora's Acrostic Poem
May 2013
A hot air balloon on the ground.
Up went the hot air balloon.
Run and tell your dad that their is a hot air balloon over the house!
On the balloon their is a bird.
Rivers are in the way to see the balloon now.
Are you going on a boat to see the balloon?
Kanoa & Kalana's:
What's Your Story?
March 2013

Our family's K12 story begins 14 years ago when I was a senior Biology major in college. That year I had been asked to teach a Biology class to a group of homeschoolers. Every Friday, I witnessed these children of all ages being given the opportunity to explore, dissect, discuss, and learn in a way that I knew children in a traditional school would not be given. More than that, I observed how exceptionally kind, respectful, and eager to learn they all were. They were more spiritually and emotionally mature than most children their ages. I thought, if I ever have children I want them to be just like these kids. I was convinced that home schooling was the key.
Fast forward 13 years later to 2011. I was married and had been homeschooling my two boys since they were born. Curriculum choices were expensive and confusing, and though I had a Master's degree in Education and 4 years of teaching experience, it was a challenge for me to plan every subject for two different levels every day. I remained convinced that homeschooling was the right choice for my children, but I needed the burden of lesson planning to lighten, I needed support from other professional educators, and I needed reprieve from the financial burden that buying curriculum was putting on our family's finances. A lot of prayer and an online search brought me to the K12 website. It seemed to have all the solutions to what I needed. A month and half later, we were enrolled.
I admit, it took quite a while to get used to the online learning system. So many passwords and procedures. I was not used to logging attendance, making contacts, and spending time fulfilling all that the charter school required. I missed all the freedom and flexibility of traditional homeschooling, but the many pros of K12 tipped the scales and we signed up again the next year.
We are now in our second year with K12 and I am more grateful than ever for it. My children are working more independently. They love the colorful and engaging online lessons. We have access to educational outings, booster club events, a wide selection of online classes and clubs, access to Reading Eggs, and I cannot say enough good things about the curriculum. History is taught with a chronological, big world conception. The U.S. is not the center of history! And it's like Christmas when receive the boxes of so many beautiful books we get to read for Literature, History, and Science. It's like a complete school in a box.
I absolutely love that I can have access to the resources that come with being a part of a public charter school while still schooling my children at home where my husband and I get to be the major influences in their lives. We get to be the ones to train them to be kind, respectful, eager to learn, spiritually and emotionally mature children, like the ones that inspired me to become an educator 14 years ago.
This is what my eight year old son says about K12: "Last year I thought my work was hard, but when I heard about K12 it encouraged me to think that school was easy. So I tried K12 and it was awesome!!! I understand the math better. This is something I can solve now: 1,000,000,000 + 1,000,000,100,150 = 1,001,000,100,150. K12 is awesome!"
This is what my five year old son says about K12: "I like the Science and Math. Our other school Science wasn't very fun. I get to look at cool rocks. I used to want to make a potato pie when I grow up but now I want to be a scientist."
K12 has heightened my five year old's aspirations. What more can I say?
Ryan's Story/Illustration
February 2013
Samuel's Lego Review
February 2013
I wrote a review for the Lego website about the Golden Dragon Lego set I bought. Here is what I wrote:
 "This set  is awesome!!!!If you want a good set buy the Golden Dragon.The golden ninja is amazing I'll say design is the same as the kimono ninja but it's a little different.Now for the mane part of the set the Golden Dragon.My favorite function about this set is that the wings fold in and out.It shoots really far. About up to 10 feet!The stone warrior is the 2nd best minifigure in the set. It has good details the helmet is in a cool shape.The scout may be small but amazing.He has a Sensei wu hat but red and he also has a bow and arrow.The catapult seat doesn't shoot as high like on the back of the box but it does shoot far." 
Luka's Level/Fulcrum Lesson
January 2013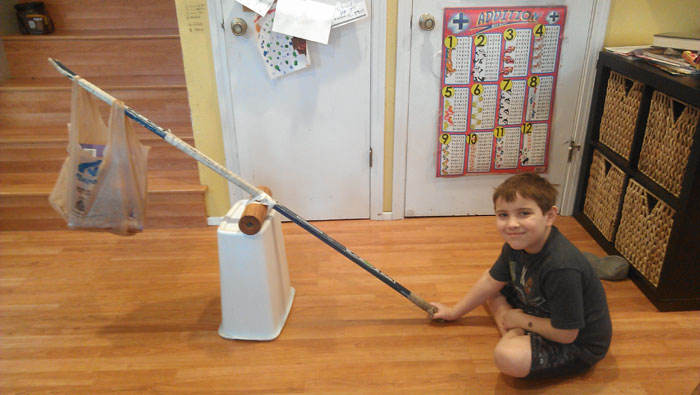 Rebekah's Story
December 2012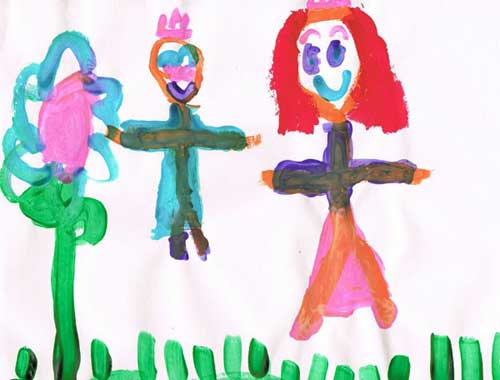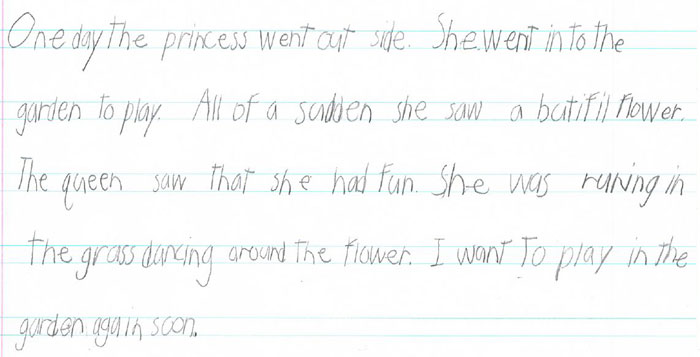 Robot in Space
By Samuel
December 2012
Robot in Space, Part 1
X-tron is a lego robot. He axidently invents a portl, he didn't know what to call it so he called it the Fledbelfr. He heard a loud nous WIEAEAAAA!!!! S-B-D-D-D-D-D!!! In the Portl he saw space! He saw a purpl thing! Then he heard the WIEAAAA faster then the speed of sound! he jetpacked in the portl!! But he didn't know what he saw Thay looked sort of like birds. X-tron gasped! ANGRY BIRDS! The Angry Birds told X-tron the Piggys took the eggs. X-tron told the Angry Birds he's a robot. Prbrfrost said great! You can zap the Piggys!
Robot in Space Part 2
X-tron asked where are the Piggys? Prbrfrost said Oh ther evrywhere! X-tron said Relly? Prbrfrost awsered Relly! X-tron said On what Planet? Prbrfrost said mostly red Planet. X-tron said I'll go ther with you! So they flew to red Planet. They saw King Pig! King of all the Piggys! X-tron tried to zap the Piggys buldings but it was no use. The Angry Birds said let's work together! X-tron agreed! Prbrfrost turnd the bulding to ice! Xtron zaped throw the ice! The Angry Birds got the eggs back.
Robot in Spac Part 3
X-tron did want to go home. But the Portl had shut down, and his jetpack had run out eletrec metl! then he had an idea! The Angry Birds! They cerryed him to earth! Sensei Wu was wating. X-tron arived! Kai Jay zane cole and Sensei wu heard knocing! X-TRON! evryone was glad. Kai said where have you been? X-tron awserd In space! He told evryone about his adveter.
The End.
Danielle's Writing Work Sample picture!
2012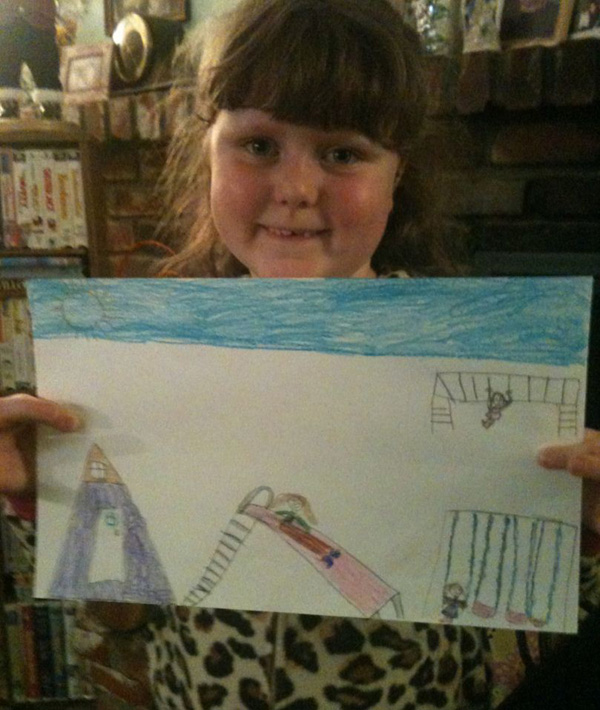 Meet Savannah and RJ
Seven's Science Project
"The Different Levels of the Forest"
2012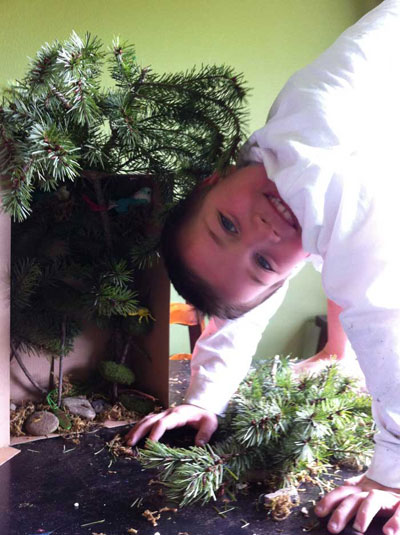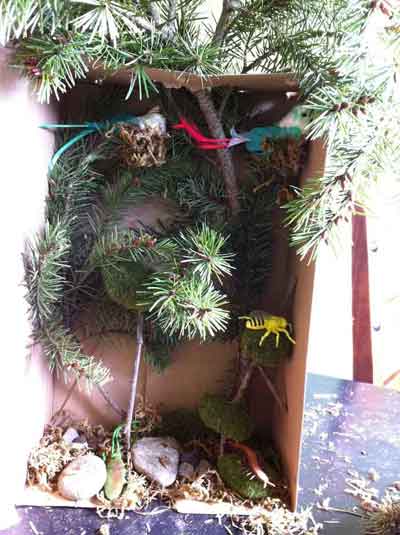 Luka's Pyramid - 2012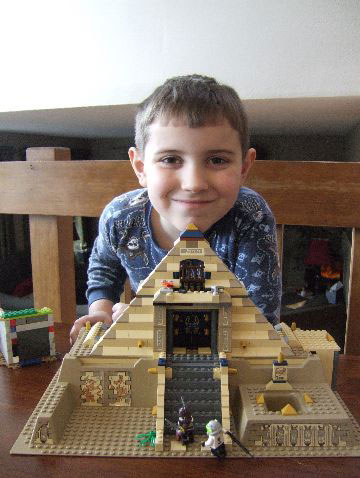 My Favorite Weather
By: Daylynn
2012
Wind and Rain
The titter tatter from the rain drops
And the breeze from the wind blows
How it's so beautiful and calm when it does
And how the rain drops and how the wind blows
It's so amazing how it goes.
What I Like about Snow
It is puffy and white
and the sound
of the pitter patter on the ground.
I think it is neat just to see the snow falling and falling
Onto the lake,
and how you can ice skate on water in its solid state.
It is amazing how snow is made.
Student's Writing - December 2011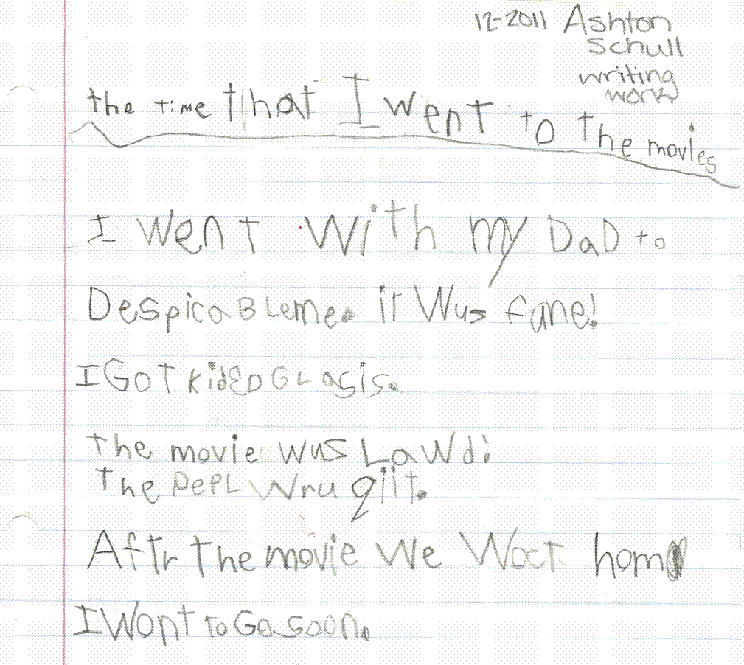 Written By: Ashton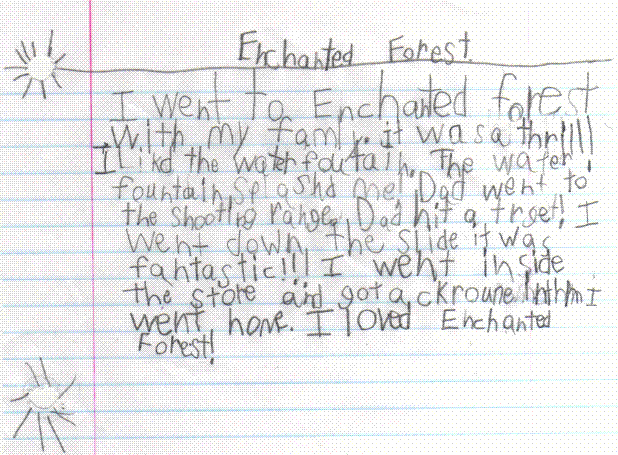 Written By: Azure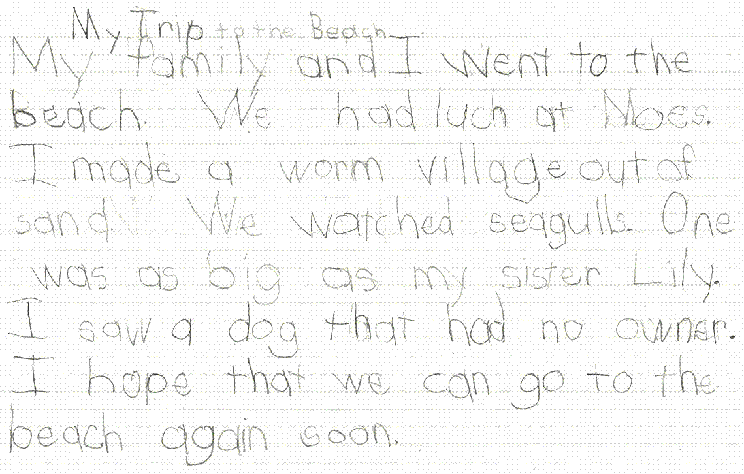 Written By: Claire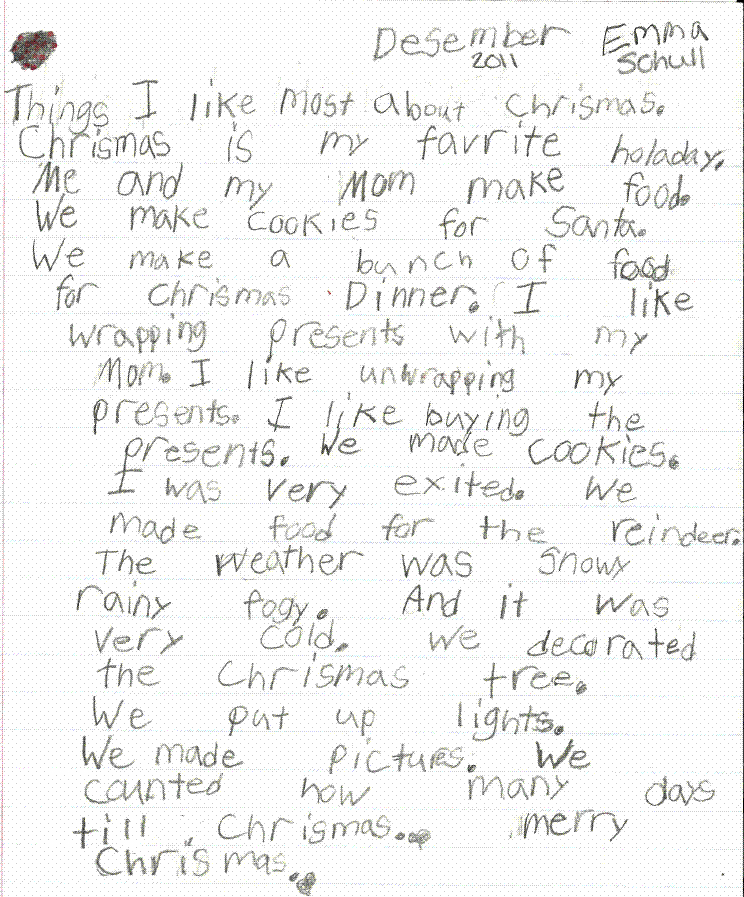 Written By: Emma